NetStat Agent is a extremely useful network tool for monitoring and diagnosing. It includes all useful network tools such as netstat, ping, traceroute, ipconfig, dns query (nslookup), whois, arp, route and http checker, but in a clean graphical interface. NetStat Agent shows your TCP and UDP connections, the geographical location of the remote IP-address and its hostname. It gives you the option to close unwanted connections. NetStat Agent provides you with the ability to test whether a remote host is reachable across an IP network and determines the route between your computer and a remote host. It retrieves all available information about your computer network configuration.
Features in NetStat Agent:
Monitors TCP and UDP connections on your computer. Each new or old connection is highlighted. NetStat Agent allows you to hide unimportant connection.
IPv6 connections monitoring and logging.
The program provides you with ability to configure special rules to close unwanted connections, terminate the process, play the sound alert and run the third party software like console ping.exe or tracert.exe.
Shows all available information like the remote address of connection, hostname, local and remote ports, the owning process, the process folder, DLL modules used by process and etc.
Ipconfig tool shows your network environment including the information on DNS servers, the address of DHCP server, the type of adapter, the MAC address and the list of IP addresses used by your computer.
You can renew or release DHCP adapter configuration. NetStat Agent also allows you to disable adapters.
Allows you to change a MAC address of your network card.
Monitors entries in the ARP cache. It shows the IP address of entry, its hostname and the MAC address. Special rules allow you to restore the real MAC address, add the entry to cache and run other programs.
You can add, delete and modify ARP entries in the ARP cache.
Queries DNS information including an IP address, mail exchange records, authority name server, etc.
Displays and modifies routes in the IP routing table. The program provides you with ability to add new route, modify an existing route and delete a route.
Built-in Whois utility allows to query all information about an IP address or domain.
Ping the remote host to test hosts operating. It can be also useful for testing your network TCP/IP configuration.
Using TraceRoute you can detect how many hops are from your computer to the remote host. The problem hops are highlighted.
Graphs the round trip time and shows the country of the hop for ping and traceroute utilities.
Built-in Pathping tool.
Displays network statistics for TCP/IP protocols and network adapters.
Saves the report to HTML files.
The powerful log manager allows you to view, delete and clear netstat or arp log files.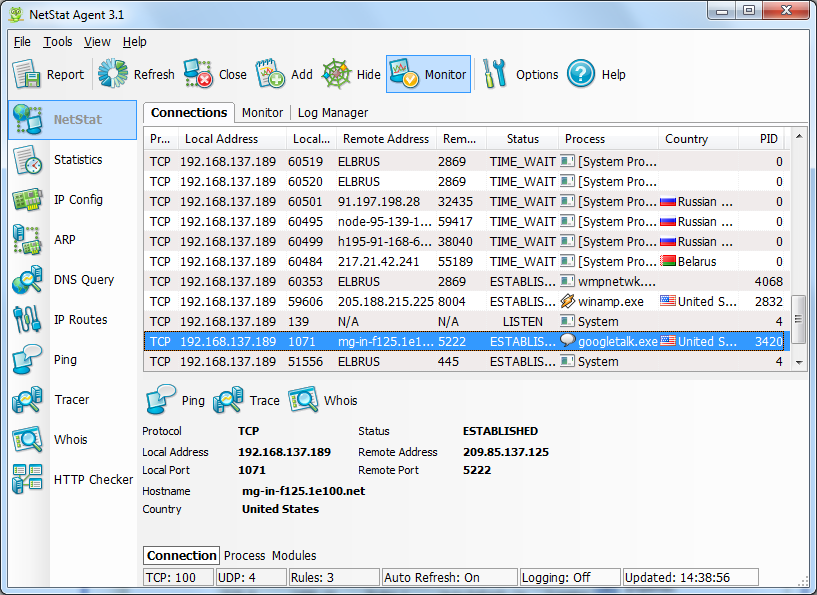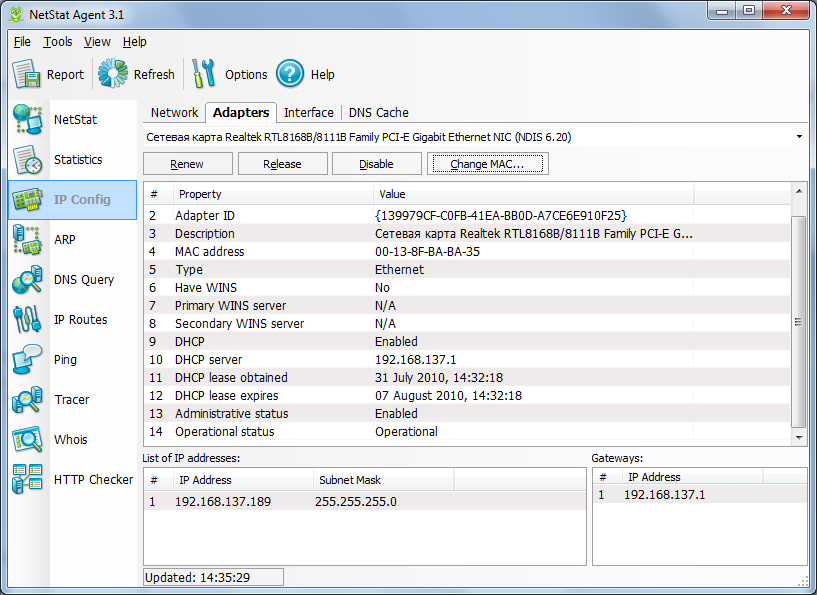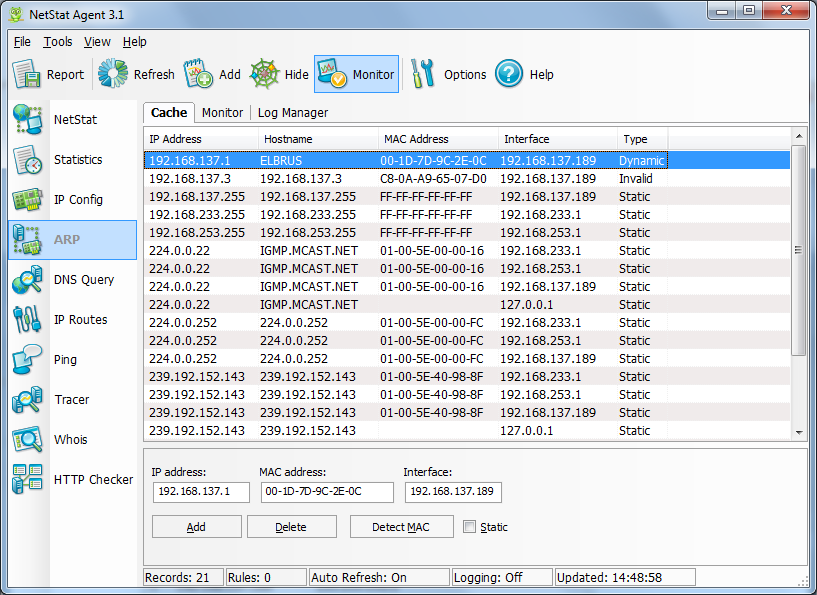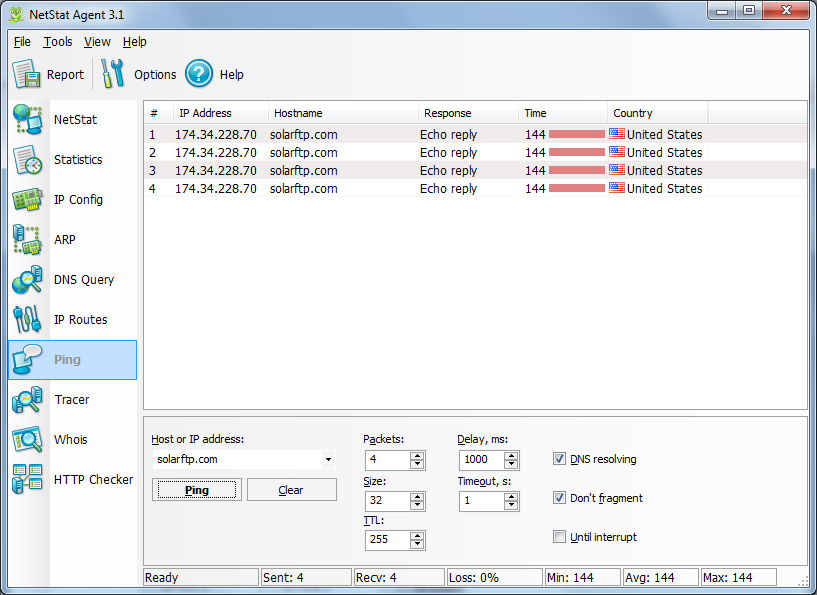 Site:
http://netstatagent.com/
Cracked:
http://www.datafilehost.com/d/8f4246fc